CMM-0.6 Clean Marine Oil Degassing Cart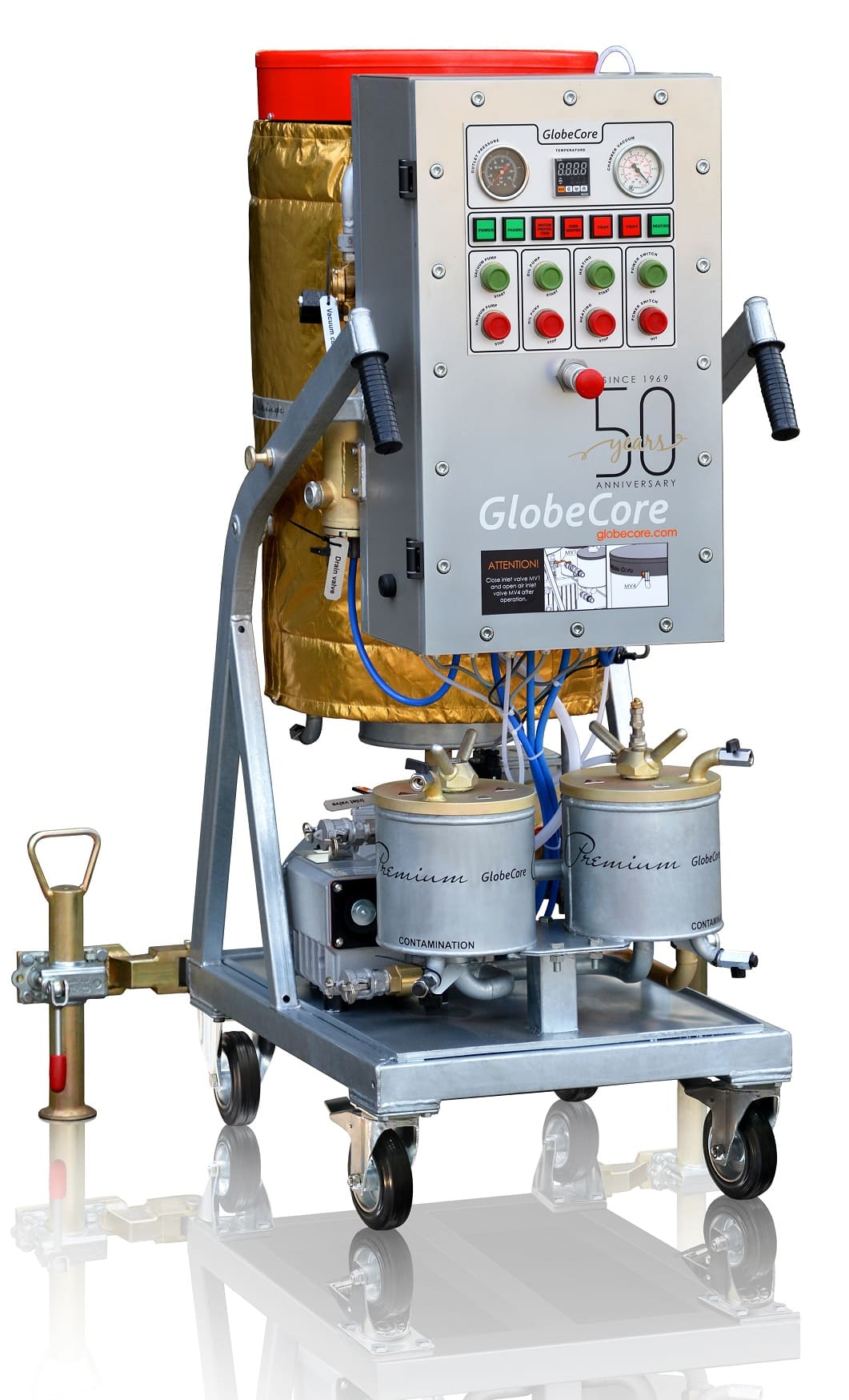 The GlobeCore CMM-0.6 Clean Marine unit is designed for purification1Oil purification removes oil contaminants in order to prolong oil service life. and degassing2Transformer oil degassing is a complex of processes targeted at the removal of water, gasses, and mechanical impurities from the dielectric oil.  of electric insulation oils3Insulating oil is an oil that is stable at high temperatures and has excellent electrical insulating properties.  on sea-faring vessels, off-shore platforms and wind-farms, in ship-works and wharfs.
Water and ex-proof design allows to employ the unit in locations with high humidity, on open decks or in environments where flammable materials or explosive dust may form. CleanMarine is a rugged heavy duty machine: high humidity, salt water and other adverse factors are irrelevant.
The unit is compact and simple both in operation and in servicing.
The use of GlobeCore products in maritime applications allows restoring the performance parameters of electrical insulation oil (transformer and ester4An ester is a chemical compound derived from an acid (organic or inorganic) in which at least one –OH (hydroxyl) group is replaced by an –O–alkyl (alkoxy) group. oils like FR35Envirotemp FR3 fluid is a natural ester derived from renewable vegetable oils – providing improved fire safety, transformer life/loadability, and environmental benefits. ), extending its lifetime and improving transformer6A transformer is a static electrical device that transfers electrical energy between two or more circuits. reliability.
Parameter

Value

1 Capacity, m3/h (gpm), not less than
 
– degassing, drying and filtration mode

0,6 (2,64)

2* Processed oil parameters:
– total gas content, % not more than

1,5

– moisture content by weight, ppm, not more than

10

3 Max oil output temperature in heating mode, ºС (ºF)

55 (131)

4 Outlet pressure, bar (psi)

3 (43,5)

5 Oil heater power, kW, not more than

10

6 Max power consumption, kW, not more than

13

7 Power supply
– voltage, V

380

– AC frequency, Hz

50

8 Dimensions, mm (in), not more than
– length

850 (33)

– width

570 (22)

– height

1510 (60)

9 Weight, kg (lbs), not more than

230 (507)
Note –  * Initial oil parameters:
gas content by volume –  below 10.5%
weight moisture content – below 0.005% (50 ppm)
temperature – above 0 ºС (32 ºF);
multiple passes of oil through the unit.
hot galvanizing of piping and vessels for corrosion protection;
watertight coating of the control cabinet;
ex-proof control buttons;
additional supports which secure the unit reliably in the necessary position.