Fuel, oil cleaning system UVR-450/16(C)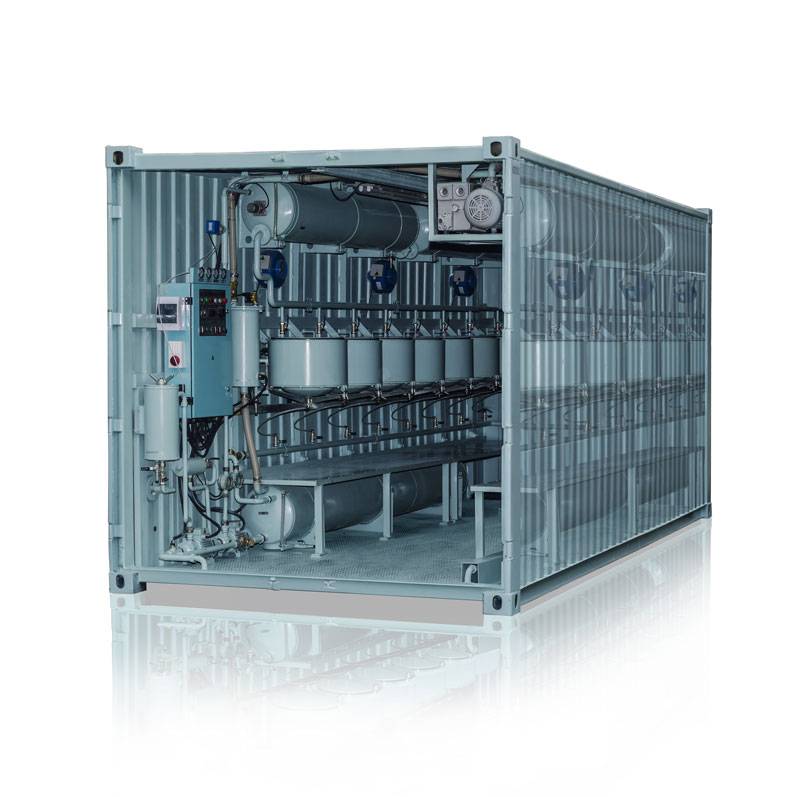 Fuel, oil cleaning unit UVR-450/16 (C – containerized configuration) is designed to purify, lighten, regenerate and completely remove aromatics from kerosene, dark diesel oil and stove fuel etc., rated capacity is 700 LPH.
The unit can be operated by any facility, does not require special placement, is easily transportable and works noiselessly.
GlobeCore UVR 450/16C unit is designed for the regeneration and purification of fuels and used mineral oils. The UVR Process is a unique and Proprietary GlobeCore technology without equal anywhere in the world.
The process is so unique and so advanced that it can regenerate practically any fuel and used mineral oil. UVR units can purify and clear up dark diesel fuel and heavy fuel oil.
GlobeCore UVR units operate using a special sorbent material while combining low cost with high performance in restoring oils and fuels to original new like condition. In many cases, the regenerated product is superior to the original product when new.
TECHNICAL DATA
| | | |
| --- | --- | --- |
| # | Name of parameters | Value |
| 1 | Regeneration productivity, m³/h: | UVR-460/16(C) |
|   | -transformer oil | 0,28-0,3 |
|   | -turbine oil | 0,28-0,3 |
|   | -industrial oil | 0,28-0,3 |
|   | -dark heating oil (crude oil) | 0,6-0,8 |
|   | -dark diesel oil | 0,6-0,8 |
|   | -dark gasoline | 0,7-1,1 |
| 2 | Regenerating powder consumption in % from the weight of cleaning product |   |
|   | -transformer oil | 3-17 |
|   | -turbine oil | 3-17 |
|   | -industrial oil | 3-17 |
|   | -dark heating oil (crude oil) | 2-15 |
|   | -dark diesel oil | 1-7 |
|   | -dark gasoline | 1-5 |
| 3 | The weight of regenerating powder for filling |   |
|   | -one regeneration module, kg | 20(35) |
|   | -all regeneration modules, kg | 400(600) |
| 4 | Loss (oil product) in % from initial volume (that that remains in a sorbent) |   |
|   | -transformer oil | 1-6 |
|   | -turbine oil | 1-6 |
|   | -industrial oil | 1-6 |
|   | -dark heating oil (crude oil) | 1-6 |
|   | -dark diesel oil | 1-6 |
|   | -dark gasoline | 1-6 |
| 5 | Total capacity of heaters, kW | 5,28 |
| 6 | Rate capacity, kW | 13 |
| 6.1 | Power consumption without heating of kW/hour | 7,7 |
| 7 | Thickness of filters, micron |   |
|   | -input | 25(10) |
|   | -output | 5(3) |
| 8 | Voltage of the three-phase alternating current main with a frequency of 50 (60) Hz, In | 380 |
| 9 | Overall dimensions, mm not more |   |
|   | -length-width-height | 6060/2590/2440 |
| 10 | Weight, kg not more | 5400 |