Low frequency heating transformer vacuum drying plant CMM-6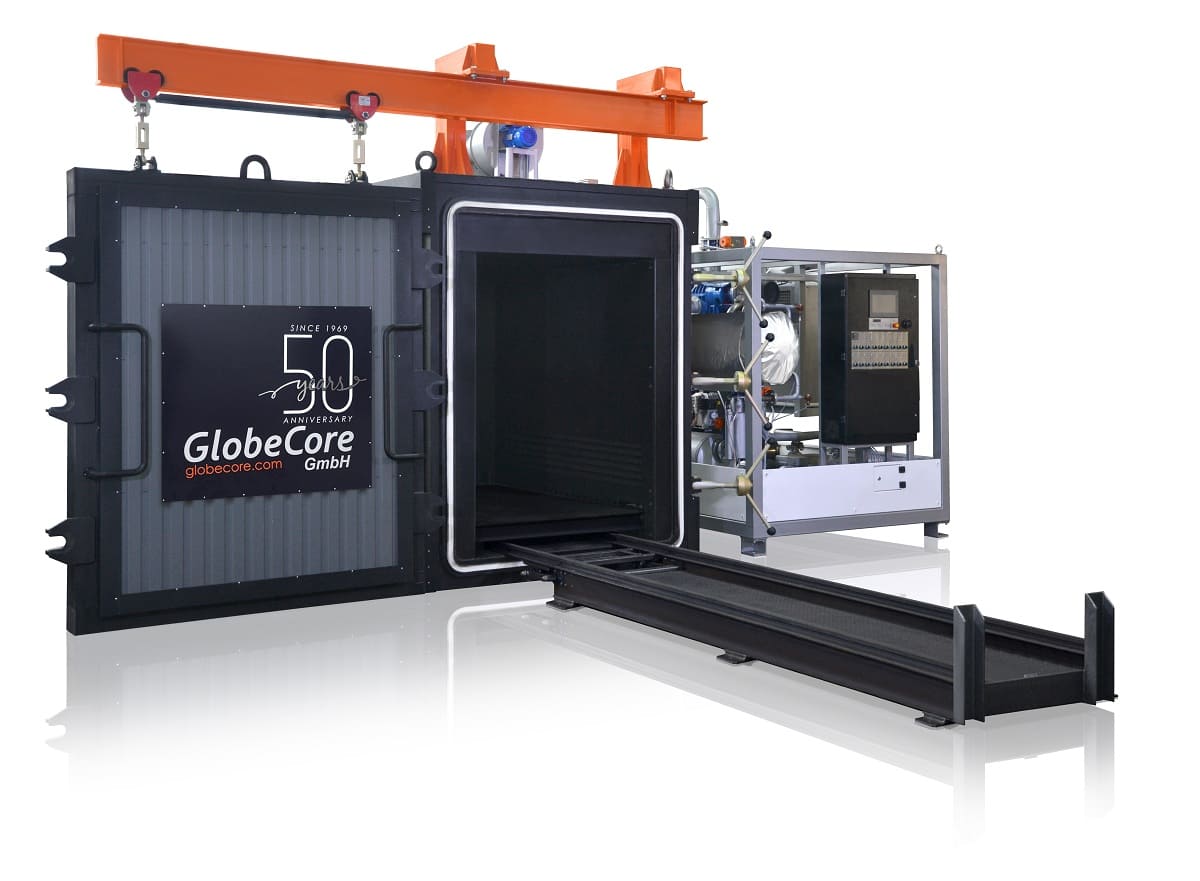 Low Frequency Heating Transformer Vacuum Drying Oven CMM-6 is designed for drying the solid insulation of power transformers.
A common practice during the production or repair of power transformers is to remove moisture from paper insulation. The dried insulation has dielectric strength 20 times greater than not dried one, as moisture affects its dielectric breakdown.
Depending on the types of transformers there are several ways to remove moisture from the active part. One of them is drying with a vacuum furnace (vacuum oven).
Drying of power transformers with vacuum furnaces has the following advantages:
more intensive evaporation of moisture in comparison with drying with warm air or natural drying;
optimal overall performance and reduced processing time.
GlobeCore offers a transformer vacuum furnace with modifications, adapted to meet specific needs of the customer. The design, accounts for productivity, dimensions, and placement location, loading method, degree of automation, etc.
1 – Autoclave; 2 – Trolley; 3 – Door with lock mechanism; 4 – Oil filling unit; 5 – Vacuum pump group with condenser; 6 – Control panel; 7 – Trolley support; 8 – Chiller
Drying of transformer insulation with a vacuum oven CMM-6 is characterized by automated checkout and recording of important operating parameters: heating temperature, operating vacuum in the chamber, changes in moisture content of insulation, and condensate in the chamber. It is also possible to automatically record the listed parameters on the in the memory of the controller, to form a file with report and protocol.
Item

Unit

Value

Type

Vacuum furnace with forced air flow

Voltage

V

415

Frequency

Hz

50

Empty drying chamber dimensions

mm

L5000 x W3000 x H4000

Heating type

Electric resistance heater with auxiliary heating of short circuited transformer by low frequency current (LFH)

Max power of resistance heater

kW

120

Max power of LVH heater

kW

50

Vacuum system

Double stage

Mechanical booster

m3/hour

2 х 2100

Rotary vane oil sealed pump

m3/hour

2 х 300

Door opening

Electrically driven, vertical, lateral to the left.

Door seal

Hydraulic

Cart drive

Electric

Cart weight capacity

Kg

20000

Control type

SCADA automation

Max temperature

°С

175

Nominal temperature

°С

120

Total dimensions of installation site

Length

mm

17000

Width

mm

12000

Height

mm

7000

Total weight

kg

35000
uniform drying of the entire transformer core volume;
economic use of electricity;
reduced duration of drying;
simple operation;
process parameters control and logging;
removal of moisture from chamber;
the chamber is made of anti-corrosion material