TRANSFORMER OIL REGENERATION PLANT CMM-R12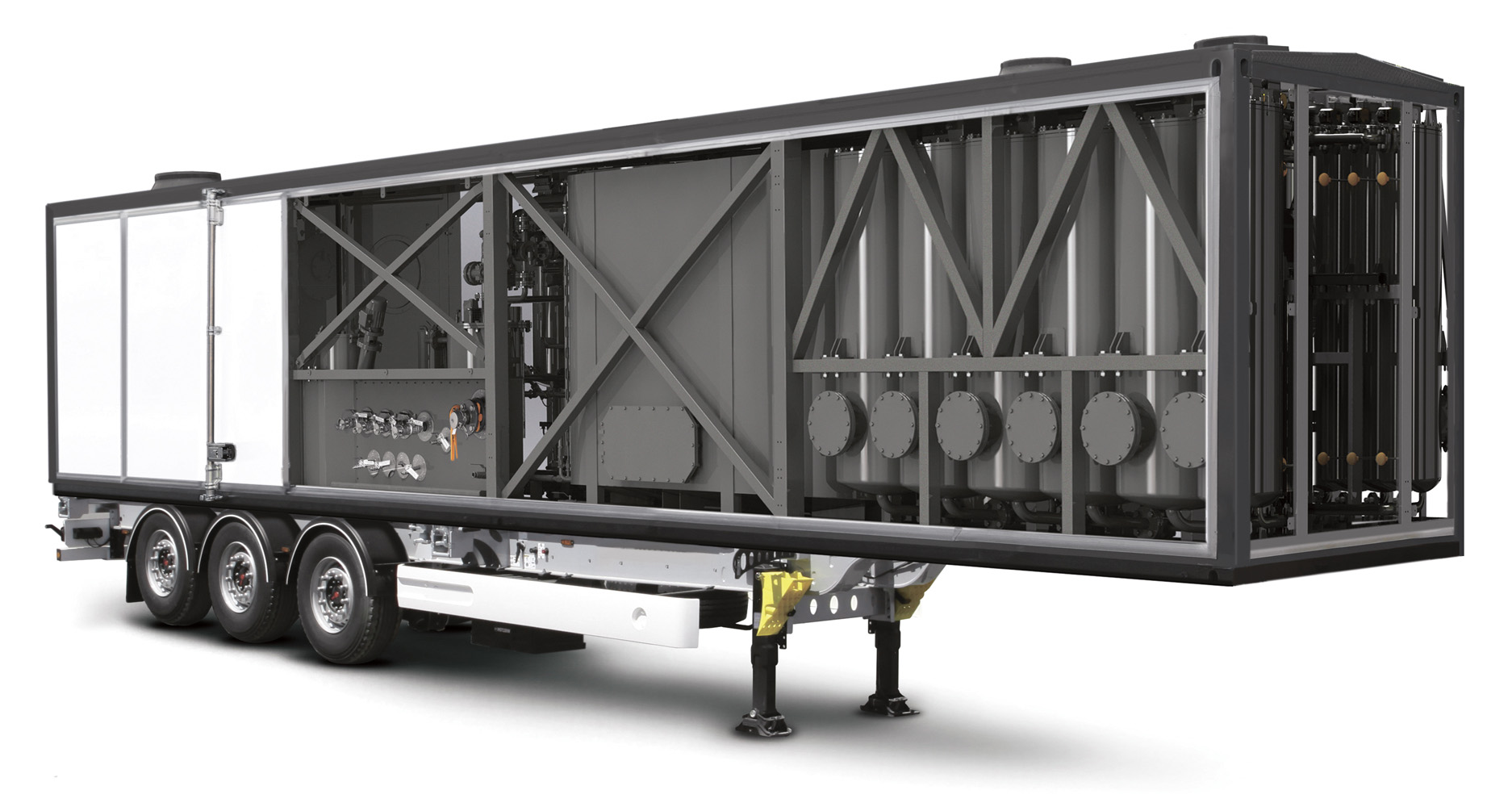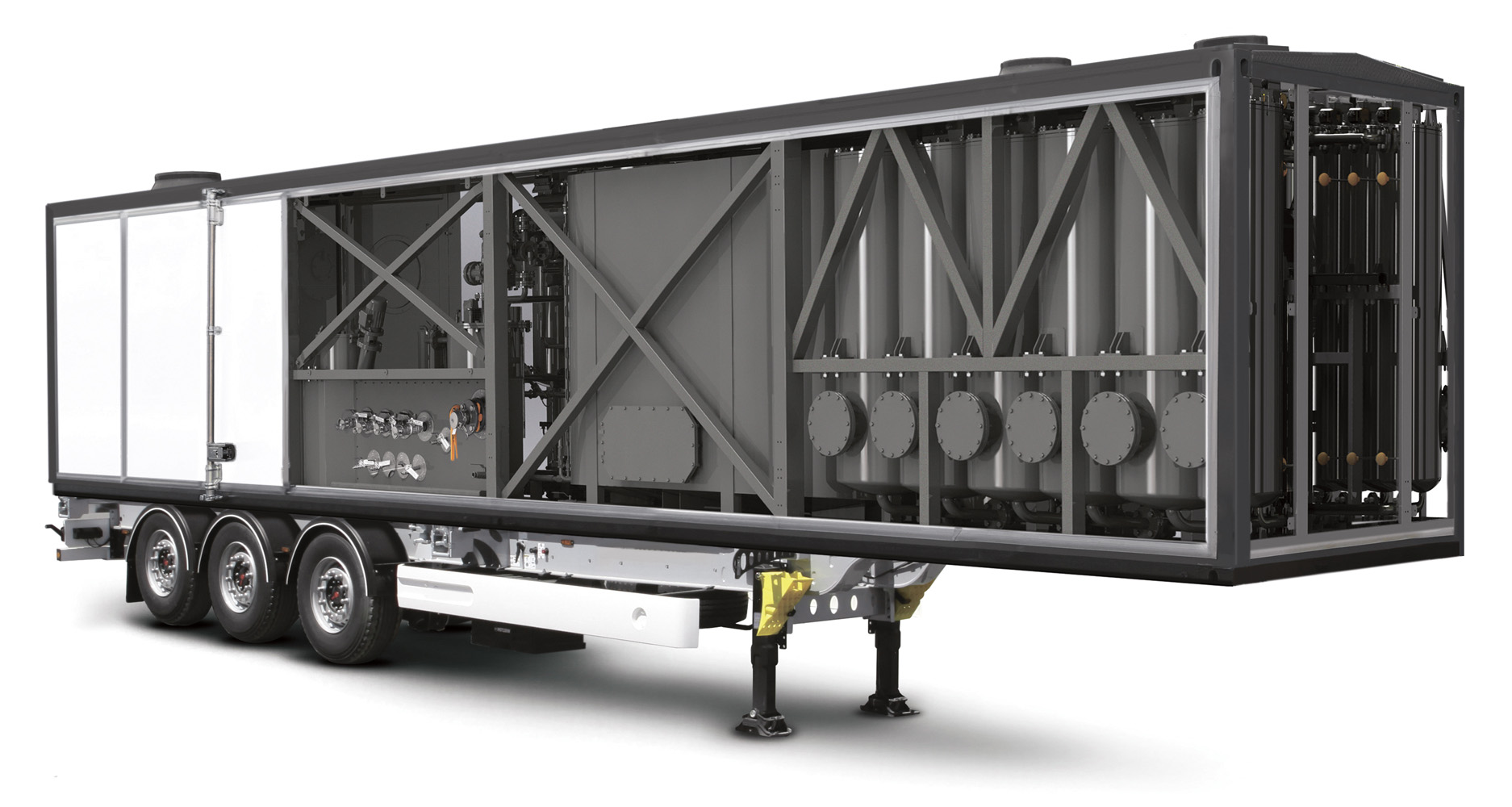 СММ-R12 Transformer Oil Regeneration Plant
Design and Operation
The unit comes in several configuration options:
stationary
mobile on trailer
with degasser and operator compartment
with auxiliary regeneration module
 Technical Specification
Parameter
Unit
Value
Capacity
liters/hour
4000
Oil lost during regeneration
%
2-20
Max allowable oil temperature
оС
80
Outlet pressure
bar
2,5
Oil heater power
kW
75
Nominal suction rate of the vacuum system
liters/hour
280 000
Filler's earth load
Kg
1600
Max power consumption, with/without the CMM-R12D auxiliary module
kW
130/145
Power
Phases
3p+1N+PE
Voltage
V
380
AC frequency
Hz
50
Connections
Oil in
Dn
40/Camlock C150
Oil out
Dn
40/Camlock C150
Vacuum pump exhaust
Dn
32
Reactivation exhaust
Dn
50
Filter elements
Coarse filter (mesh strainer)
micron
100
Pre-filter with filtering element
micron
25
Regeneration section filter with filtering element
micron
0,3 Х 2
Fine filter with filtering element
micron
5
Dimensions (no trailer)
Length
mm
11500
Width
mm
2090
Height
mm
2110
Weight
kg
15000
New processed oil parameters
Parameter
Unit
Value
Per 1 vacuum/heat degassing cycle
Moisture by weight
g/t
5
Gas content by volume
vol %
0,1
Per 3 vacuum/heat degassing cycles
Moisture by weight
g/t
3
Gas content by volume
vol %
0,05
Parameters of used oil after regeneration
Parameter
Unit
Value
Per 1 vacuum/heat degassing cycle
Moisture by weight
g/t
5
Gas content by volume
vol %
0,1
Acid number, IEC 296; ASTM D-664
mg KOH/g
0,01
Corrosive sulfur, ISO 5662; ASTM D-1275
None
Dielectric strength, IEC 156; ASTM D-1816
kV
70
Interfacial tension, at 25ºС, ISO 6295; ASTM D-2285
N/m
45
Dissipation factor at 90ºС, IEC 247; ASTM D-924
0,01
Attention!  Oil parameters may vary. Processed oil parameters depend on original oil condition. 
The GlobeCore regeneration process restores used oils to new like condition.  This process makes it possible to fill transformers with oil that would previously require disposal.  The oil in the transformer can be used without replacement for the entire service life of the transformer.
The GlobeCore CMM-R systems are designed to extend transformer service life by restoring the dielectric strength and chemical composition of dielectric insulating oil.
In the process of oil regeneration, oil degradation products and acidic compounds are removed, the oil becomes clear, oxidation resistance is improved, while gas solubility is reduced.
This equipment allows to reduce acid number of transformer oil to the regulated values. A special feature of the process is the reduction of soluble and insoluble sediment. This sediment is harmful in that it deposits in the cellulose insulation, being much more acidic than the oil. The oil has a tendency to precipitate acidic products which then concentrate in the paper insulation. The acidity of the oil then changes very slowly. Further growth of oil acidity accelerates and is accompanied by formation of insoluble sediment and water-soluble acids.
Each GlobeCore unit can be customized and includes a number of options:
An extra vacuum pump assembly for transformer vacuuming
Mounted on a trailer or a semi-trailer
Inlet and/or outlet moisture meters for the oil stream
Remote control and process monitoring via smart phone or PC
Climate Controlled Operator work room
 СММ-R12 Specifications
Configuration of equipment
Component
Description
Note
Number of sorbent column/ recommended matching degasser
12/4000
1600 kg Fuller's earth load / 4000 liters/hour degasser
Oil inhibition section
The system adds DBPC additive to the oil
AC power voltage
380V, 3 phases
AC frequency
50 Hz
Ambient temperature range
+5…+40oC
Sockets for additional equipment (specify amount, type and current)
3ph 32А
1
220 10А
3
Programmable Logic Controller

(PLC)

Manages oil processing
Laptop controls
Displays process diagram and facilitates control of the plant by keyboard and mouse input
GSM module
Remote monitoring of plant operation
Printer
Plant operation data output
Digital oil meter
Measures the amount of processed oil. This can also measure the current flow rate through the plant
Moisture content meter
Measures the amount of moisture in the oil
Oil inlet
Dn40
L -30 meters
Oil outlet
Dn40
L -30 meters
TSS (Transformer Security Sestem)
Monitors oil level in the transformer. If the transformer oil level drops below critical level, the plant stops
Metal container
The unit is installed in a metal container with a metal roof and detachable doors for servicing
Operator compartment
The unit comes with a compartment for the operator. The compartment is equipped with a desk and air conditioning
Charcoal filter + catalytic converter
Reduces the amount of harmful substances in the exhaust. Provides maximum environmental protection. The filtering element must be changed from time to time
Adaptor kit for transformer connections (specify diameter range)
Connects the plant to various transformers

0.¾" – 2"

Soft throughput control (PID)
Allows automatic processing rate control
Soft heating control (PID)
Allows gradual oil temperature increase and keeping the temperature by varying the current
Auxiliary regeneration module capability
Plant software and hardware are prepared for connection of up to two auxiliary 12 column regeneration modules
SCOPE OF APPLICATION
The unit is designed for regeneration of mineral transformer oil.
Oil ages in the course of long operation. The products of oil aging are various chemicals with harmful influence on both the oil's performance as a dielectric and on the functions of electrical systems. The solution to this problem is periodic oil regeneration.
The unit is designed for use during installation, operation repairs and maintenance of high voltage oil filled equipment (power transformers, high voltage switches etc).
The unit can process electrical insulation oil and service transformers.
Electrical insulation oil processing includes:
Removal of solved gases
Removal of free and solved water
Removal of particulate matter
Removal of oil degradation products
Transformer servicing includes:
Vacuumizing the transformer
Heating of the transformer and its core with hot oil
Removal of sediment form the windings of the transformer