We are all used to associating power transformers with transformer oil. But in the modern world, electrical companies widely utilize silicone oil as an alternative to mineral based fluids. This is not surprising, considering silicone oil benefits and advantages:
Silicone Fluid (or Polydimethylsiloxane silicone oil) features:
 higher dielectric strength and temperature stability,
low toxicity, low vapor pressure, low viscosity change
 higher resistance to oxidation and chemical inertness
The above make silicone transformer fluid much safer environmentally as well.
On the other hand, operating conditions and power transformer lifecycle can cause some issues:
When arc discharges occur, silicone oil may release harmful gases under the influence of high temperature
High oil viscosity may have a negative impact on transformer heat exchange, reducing circulation of the oil.
Silicone oil is harder to dispose of, combustion of silicone oil causes release of harmful gases.
GlobeCore engineers insist that one process can address the issues above — Silicone Oil Recycling.
Our team has developed a new machine for Silicone Dielectric Oil Regeneration.
Its great advantages are compact size and efficiency.
Silicone Oil Recycler Specifications
№
Parameter
Value
1
Processing capacity, m3/h:

– drying mode

– pumping mode

1.0

1.0

2
Maximum oil output temperature in heating mode, °С
60
  3*
Treated oil parameters (at initial moisture content of no more than 50 ppm):

– maximum moisture content by weight , ppm

– filtration fineness, micron

10.0

5

4
Oil output head, m
20
5
Input pressure, MPa, no more than
0.1
6
Oil heater power, kW,
25,2
7
Oil heater mean surface power, kW/cm2, no more than
1.1
8
Nominal power consumption, kW
28
9
Three-phase AC @ 50 Hz, V
380
10
Maximum dimensions, mm

– length (without trailer)

– width (without trailer)

– height (without trailer)

3800 (1300)

2100 (800)

2100 (1550)

11
Maximum weight (without trailer), kg
860 (540)
Note   * With initial oil parameters as follows:
– moisture content by weight – no more than 0.005% (50 ppm)
– oil heating temperature up to +60±5 oС within 30 minutes of heating;
– gas content – no more than 10%
– dimensions may vary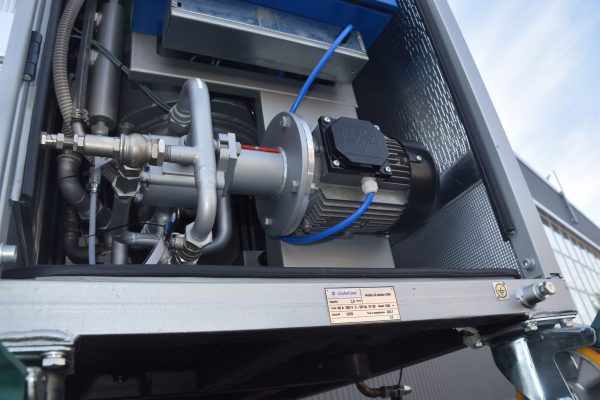 The unit is used during installation, maintenance and operation of oil-filled high voltage equipment (power transformers, high-voltage switchgear, etc.).
The station is assembled in a frame structure with closing doors. Its components are: a vacuum column (VC), a control panel (CP), pumps (P1 and P2), vacuum pump (VP), pre-filter, coarse (F1) and fine filter (F2), piping with valves.
General view of the station is shown in figure 1.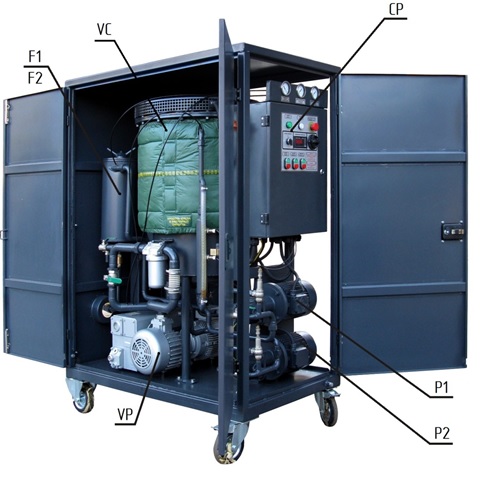 Figure 1 – CMM-1 general view.
Mesh filter MF (figure 2) is installed at the input of the unit to remove mechanical impurities from the oil. Filtration rating of the filter is defined by 200 micron brass mesh, installed in the casing. For filter element cleaning, extract the filter from the input manifold and wash it in clean transformer oil.
Pumps Р1 and Р2 (Fig.1) facilitate input and output of transformer oil. The pumps are controlled from the control panel. P1 and P2 pumps are equipped with by-pass line and valves MV7 and MV8.
Cartridge filters F1 and F2 (figure 1) filter the oil with 25 and 5 micron filtration fineness respectively.
Flow diagram
Figure 2 shows the unit's flow diagram.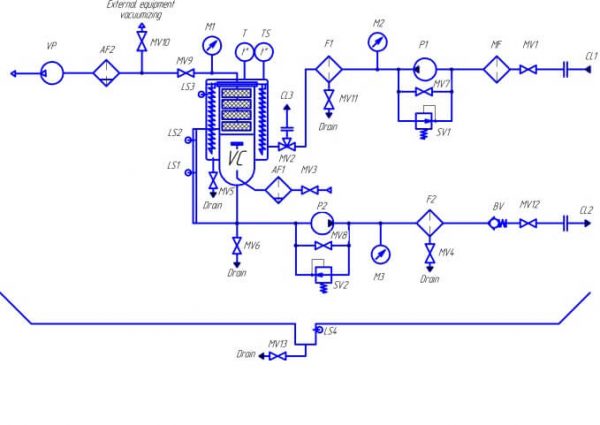 Figure 2. Flow diagram
The unit can operate in two modes:
1. Pumping and filtration (Flt);
2. Thermovacuum drying (Dry).